After two months of all-round evaluation, from millions of online votes to online reviews by 8 expert teachers and top 100 engineering companies, tens of thousands of viewers watched the live broadcast together to witness.
Exclusively named by COK Brand Group, sponsored by HC Audio and Lighting Network, HC LED Screen Network, and HC Security Network Co-organized "COK Cup · 2020 Sound and Light Video Industry Brand Selection" The final top ten results were announced on November 2!
In the special situation of this year, the brand selection activity passed the online review meeting, and the company representatives of the top 15 brands announced separately. The evaluation committee composed of 8 industry experts and the top 100 engineering companies jointly scored them to comprehensively evaluate the comprehensive strength and brand of the company In terms of product and service quality, brand market awareness, brand effect, etc., the organizer counts the final scores of each brand and announces the top ten results.
With the active participation of employees and customers, XMLITE Lighting won the "Top 10 Competitive Brands" in the selection activity. I would like to express my heartfelt thanks to friends who support us! Under the epidemic this year, XMLITE Lighting has maintained a good performance with a variety of new cutting lights.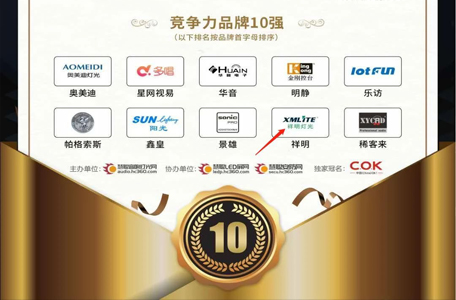 Guangzhou XMLITE Lighting was established in 2010 and has been focusing on intensive cultivation in the field of moving head lights for ten years. In 2017, it has successively launched independent research and development of 1400W cutting lights and LED cutting lights series products, which have attracted widespread market attention. Among them, the 470W LED cutting lamp is a lightweight LED cutting lamp that our company focuses on. It is small in size, light in weight and clear in cutting patterns; the company holds a patented technology that the cutting pattern can be rotated 180 degrees!